Solid Wood | Locally Made
Handcrafted Amish Furniture
Searching for the perfect gift? Need something meaningful? Stop in-store and check out our showroom or find out more about our customization pieces that are tailored to your specifications. 
Furniture is a huge investment, no matter if you are furnishing an entire home, or just purchasing a sofa, you want to get the best deal for what your money is worth. You know the saying "You get what you pay for?" Well that's how it is when using hardwood for your furniture pieces.
Hardwood may be the more expensive furniture option, but it is also worth the money. The benefits of using hardwood significantly out weight using the cheaper furniture pieces made out of engineered woods. Newly manufactured furniture pieces are formed out of cheap materials such as particle board and plywood. Particle boards and plywood are very breakable types of "wood" made out of many pieces of wood glued together and made into sheets, they cannot handle moisture or average wear and tear nearly as well as hardwood. There is a reason humans have been consistently using wood as a building material for thousands of years, it works. 
Due to solid wood leaving such a lasting impression both in our homes and our hearts, hardwood furnishings are durable enough to become a family heirloom. Our furniture is built to last and hand-crafted with care and compassion. Not only can you come check out our showroom and see what we have in stock, but we also can do custom built pieces for you. 
Oak is a common tree found in the United States, found in both Red Oak and White Oak, they have similar appearance and durability. Oak has a recognizable grain pattern of arches and imperfect ovals. A deep texture is what to expect with oak wood. White Oak comes in a light color, where Red Oak appears on shades of brown, pink, and reddish-brown. Oak is very heavy duty, yet can bend. It has great resistance to wear and is available in many colors and finishes.
Cherry wood is a closed-grained wood, natural cherry has a light pink hue that darkens to an amber color as time passes. This color change cannot be simulated with stain. The heartwood of cherry can range from rich red to reddish-brown, while the sapwood is a creamy white. The grain in cherry wood is straight with a smooth texture. Cherry wood is easy to work with and produces a smooth finish. The wood is bendable and has medium-crushing strength.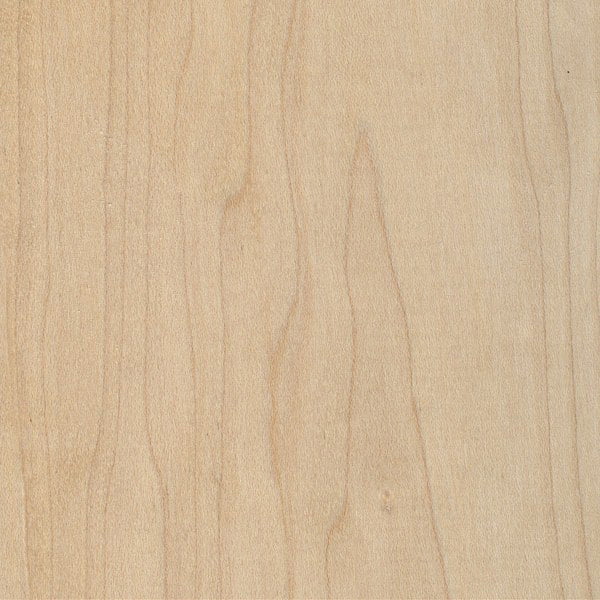 Maple wood is available in both hard and soft varieties. The surface has a smooth, subtle grain pattern. The sapwood is creamy white with a slight reddish brown fleck. The heartwood varies in shades of light to dark reddish-brown. Hard maple, typically called maple, is very hard and heavy duty. It has high resistance to wear and abrasion. Soft maple is very much the opposite and is typically only used when looking for a distressed look.
Hickory wood is the strongest of all woods. The sapwood is white and sprinkled with fine brown lines, while the heartwood is a pale or reddish-brown. The texture may have a little wave to it, or it could be straight. Hickory is an extremely tough wood. It has great shock resistance and can withstand some of the worst conditions.
Walnut is a tough hardwood, that can moderately bend. It is very easy to work with, especially with hand tools, glues, and screws. Because of toxic material occurring in the tree roots naturally, many builders will not use Walnut because of the difficulty of disposing of scraps and sawdust. The colors of Walnut wood can range from a white to a dark chocolate brown. The sapwood is usually a white tinge, then steamed to darken. The heartwood is a shade of brown, occasionally having a purple tone.
Choose a piece and style of furniture from our showroom or from one of our extensive catalogs.
2. Select Any Necessary Options
Specify size, drawer and/or door configurations and any other general changes.
Choose from Oak, Quarter-Sawn Oak, Cherry, Maple, Hickory or Walnut.  We have samples of each.
4. Select the Stain Color
We have a wide selection of hardware and upholstery fabrics and leathers.
5. Choose the Hardware or Fabric
After that, it's up to us! We'll place your order with one of our Amish craftsmen and soon you'll be enjoying furniture made just for you.
Ready to get started? Contact us today by filling out a contact form or giving us a call!
12316 Shelbyville Road Louisville, KY